With the Vanagon unexpectedly becoming my only form of transport this winter (more here) it have to be able to trust it.  Miraculously the never ending issues I had with the coolant system on the 2.1 seem to have dried up (no pun intended) but what about driveability in the snow since mounting those BFGs?
I was really looking forward to getting out in the snow with the chunky tread of the BFG tires,  and in truth,  in SNOW they are awesome.  The big tread grabs snow and slush very well - but on ice, they are almost useless.  Even with 200lb of sand over the back wheels for added ballast, stopping on ice or hard packed snow,  or moving off on even the slightest incline was just ridiculous.  
The nail in the coffin was when I did my usual handbrake turn outside the house to flip around to park, and ended up stuck for 20 minutes.  The previous storm had frozen over, and it was unbelievable.  I just couldn't move from the rut that I'd created from my sideways movement.  
Two options:
Siping the BFGs. 
Real Winter Tires
---
Nokian Nordman 7 SUV
I hear good things about Siping.. it makes logical sense, but bad things about siping BFGs as the tread is so large it's more likely to lead to chunking / bits breaking off on the trailing edge of a tread block, so Real Winter Tires it is.
I made the decision on Cyber Monday, and scored a set of Nokian Nordman 7 SUV tires for $320 shipped to the door from Simpletire.com, and they arrived next day!
The Nokian decision was based on some research and a discussion I started on Facebook Vanagon Owners.  Some strong recommendations for Nokians, but more specifically the Hakkapeliitta ranges.  In online tests comparing the Hakkas to the Nordmans it was a pretty close call - on everything but price.  The Nordmans are a good $50 each cheaper.  I learned later that the Nordmans are an older generation of Nokians given this new moniker and launched as a new budget line in 2017.  Well Nokians seem to have been great for a while, so I'm just going to trust that they work out well.
With a load rating of 100 they are adequate, and although I'd like wider than 205/70 on the 15" wheels,  they are for winter, and thinner is good.. and on that "wide" thing, if you read my Stance Change  post you'll know that the width of my current rims bugs me.. so a loose plan came together.
Back when I bought the BFGs from a Vanagon friend, they came on a set of Steelies that I've had tucked away ever since.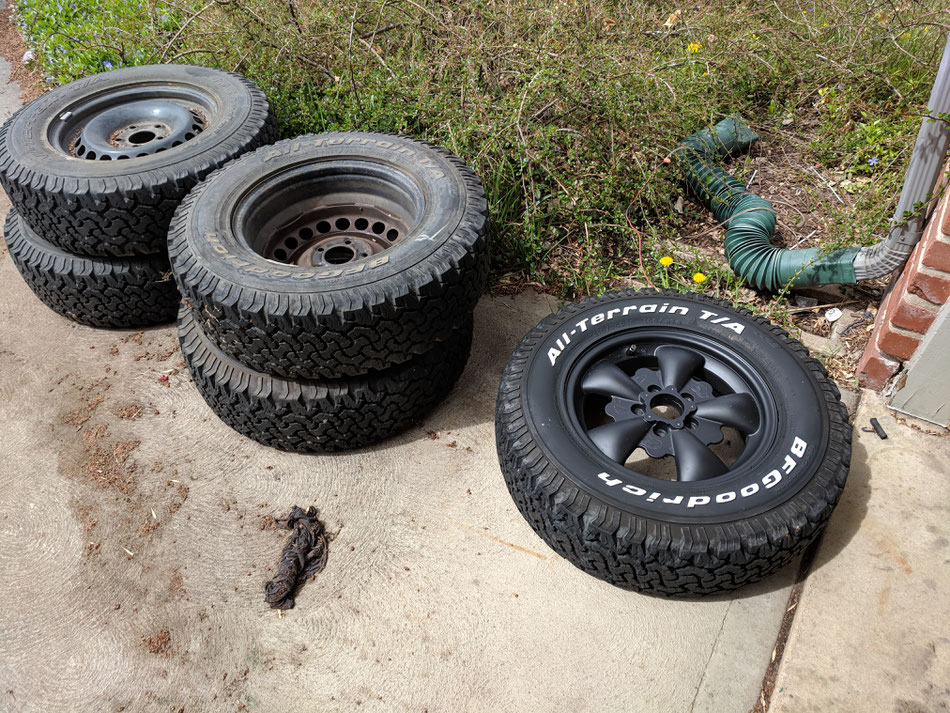 ---
Polishing up the old shoes
They were in pretty rough shape and I almost gave them away twice, but it got me thinking.  If I go with these for the winter tires, that frees up the EMPIs to send off to the wheel builder for widening, because the guy has a 4 week waiting list.  Hum!  That's a strong maybe for Stance Change 4!
Well I might as well clean the Steelies up a bit.  Here's what they look like with about 3 hours work.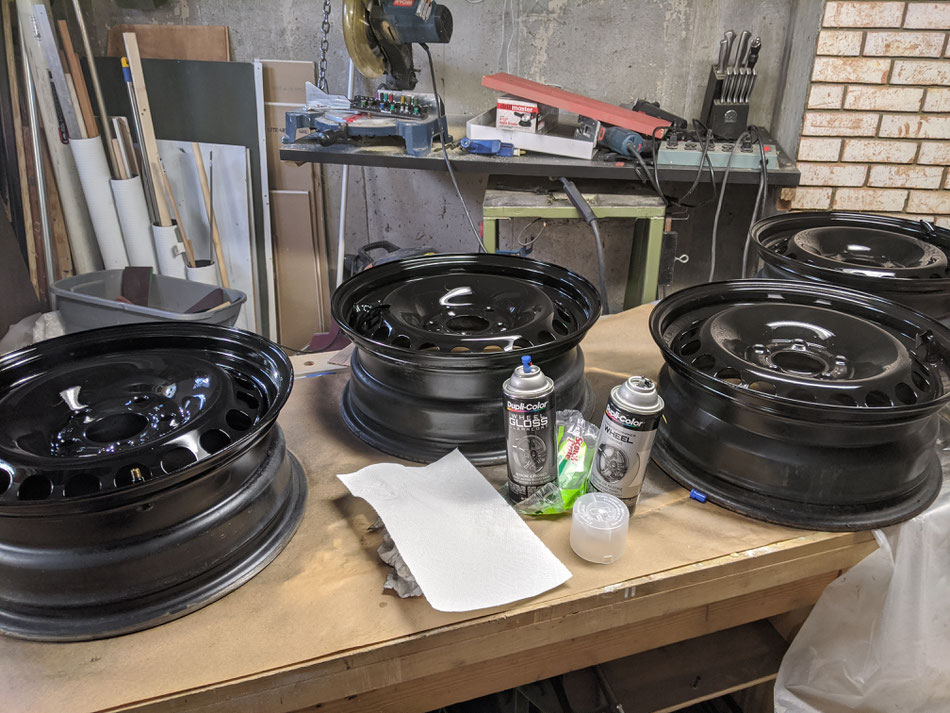 They weren't as bad as I thought and the worst damage was from me stacking them carelessly thinking I'd never use them again.  I wet & dry rubbed down the visible scratches, and scotch padded the rest to create a bit of a rough key then used Duplicolor gloss black wheel paint, followed by Duplicolor Wheel Gloss Clear Coat.  That paint goes a long way, and to my surprise I managed all four wheels on one 12oz can of each product. 
---
Mounted and tested!
Mounting these tires was very easy.  They are much softer than the BFGs and went on the rims effortlessly.  With the modifications to my Harbor Freight Tire mounter, and my nomar pry bar, they went on without a scratch.  Two required a small amount of weights to balance, but all in all another tire mounting success.
I went out on the hunt for some remaining ice and snow and ho lee carp,  the difference in grip between these and the BFGs is simply ridiculous.  I found an icy patch and stopping and starting felt like dry pavement. SUPER happy.
As an aside, I also find the ride of these much more comfortable than the BFGs, which makes sense. The BFGs have strengthened (and therefore stiffer) sidewalls for offroading.  With my stiffer springs I'm much happier with the ride of these, and there's a chance the days of the BFGs are done and some other white lettered tires might take their place in the summer.
Additionally, these thinner tires on wider rims look better than my previous setup, so paying to have my EMPIs widened is now under serious consideration.
Looks?  Not bad.  A red or white pinstripe on the edge may be in the near future.