I've been watching Craigslist for a couple of months and there isn't a week goes by that there isn't a car that "would do" if I wanted to pull the trigger right now.  
Denver Craigslist currently lists 200.. TWO HUNDRED Subaru entries between 2000 and 2004.  75 of those have less than 150,000 miles.  Narrowing down, if I were to pick right now it would probably be this one: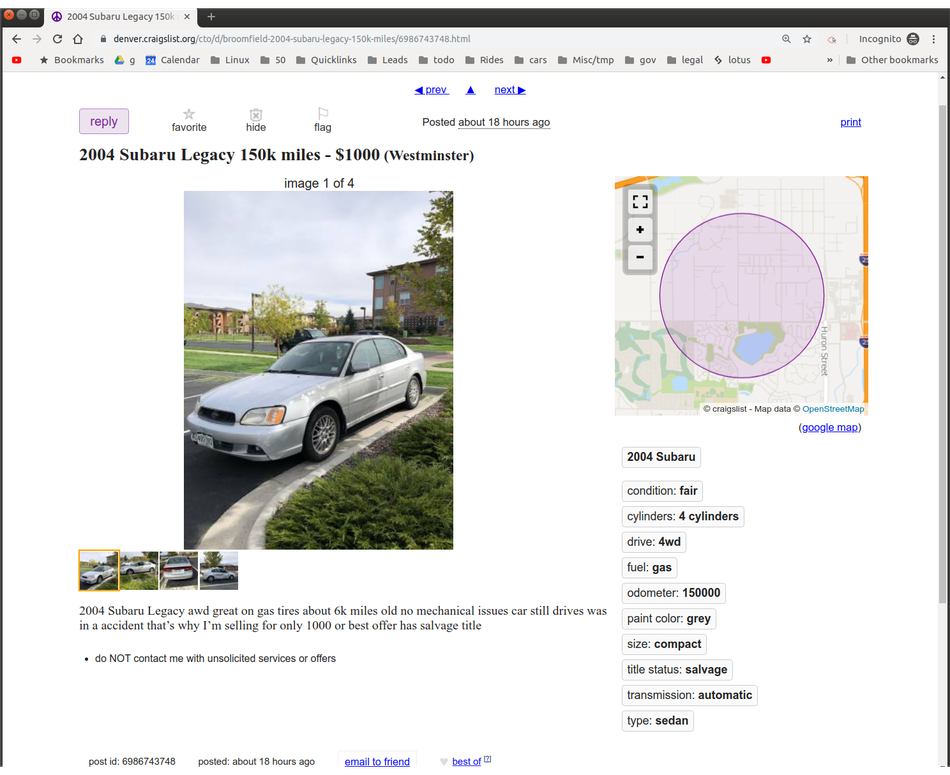 Yes, I'd prefer closer to 100,000 miles, but if push came to shove, unless this has a leak that I don't like from the lower engine,  this + head gaskets + water pump / timing belt refresh would probably do the trick.  Going to keep an eye on this one.  I'm currently purging stuff out of the garage so I can have a Subaru in there for a couple of weeks while I rip it apart without creating a disaster in the driveway that I don't want to inflict on my neighbors.
Update. By the time I'd made a decision on the more preferred CoPart 45,000 mile car this was already gone. Bummer!
I'll post some more candidates here with my thoughts as time goes by.  Not itching to pull the trigger, but totally open to buying the right car if it comes along here rather than Copart, although saving $500+ on a Copart car is the difference between paying for a loom services vs doing it myself if I want to stay in budget.
---
September 30th 2019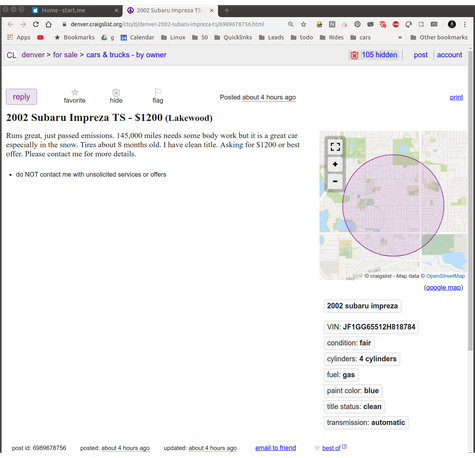 This is a candidate.  Price is impacted by bodywork issues so perfect match.. unless that body issue is rust, in which case it might not be a Colorado Car and have engine corrosion I don't like the look of.  Other thing against it for me is that it's an Impreza TS, and with my limited understanding of Subarus, the best thing to get is something that you can likely get an almost identical engine to in the future for ECU / Harness compatibility.  Outback or Forester fits that description better.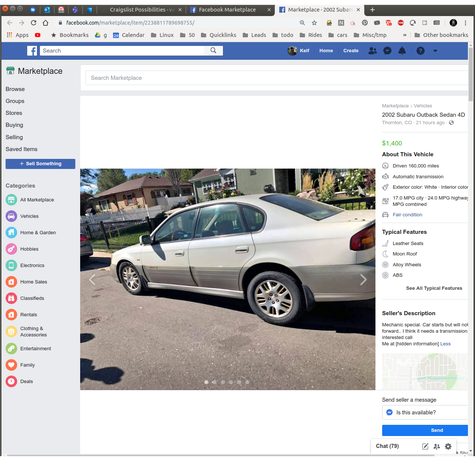 This might get REALLY cheap. 160k miles.  Bookmarked to come back in a week.  Blown transmission.
Update: Sold before I got serious about buying.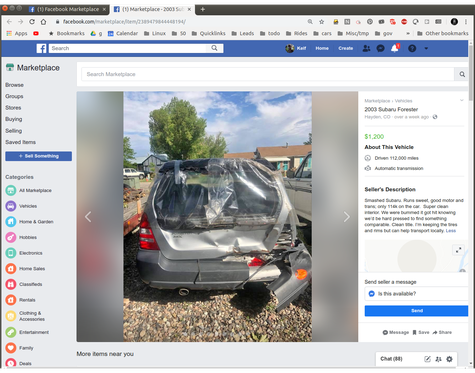 And here's the dream car.. in the  wrong location.  112k miles on a rear ended 2003, but it's two hundred miles away ;(  Asking $1200 so I think $1000 cash would probably seal the deal.  Add to that the interior looks great for some ebay revenue.
If the seats didn't sell locally,  just the headrests can make $100.  Another $100 + for a steering wheel with airbag.  $25 for interior door handles.  There's lots of money in switches, bezels, dash cluster and other interior parts that are simple to pull, weigh, box, and post to eBay. 
October 8th
---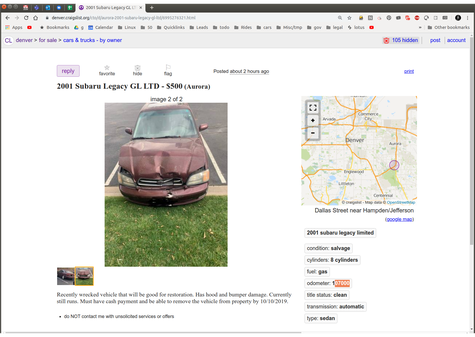 Interesting, and only 4 miles away.  Swung by and some positives and negatives.  The engine ran well, although I only ran it for a minute because on the way home from the accident the seller said it started to "smoke" - probably meaning steam so I don't want to push it.
Strike 1
I don't like that she might have overheated it to get home
Strike 2
Oil leaks from high up the engine and I can't open the hood without trashing it and that's not available. I see oil dripping from 3 of the 4 ignition coils, which probably means the seals but I really don't know and I really can't find out.
Strike 3
Check engine light.. and I didn't take my scanner. Ugh.  COULD be misfires in a cylinder that I could assume is from oil in the plug sockets, or it could be something bad thrown by the drive home after the accident. 
Strike 4
Smokers car.  This is a bummer.  The interior was really nice.. but it smelled of smoke.  Selling stuff on eBay from a smokers car sucks.  If you state it's a smoker car you can't complete against similar auctions on price.  If you don't, there's a good chance some of the stuff will come back.  Definitely impacts the value of the seats and headrests, but it's crazy how smoke gets into plastics, switches.. everything.
If it wasn't for Strike 4 I'd head over with a scanner and see if I can diagnose the check engine light, but as it stands if I bought this and tore into it I'd be in for $500 for the car, plus $100 for a tow truck.  I can't risk that much of the budget on a car that I can't strip and sell the interior on if I decide I don't want to use the engine.
October 15th
Open lead on a car nearby.  I went to see it but couldn't start it because someone tried to steal it.  It's more on the higher mileage side, but I told seller if they get to the point they can't sell it (and how can they in CO if they can't start or emission test it) I'll give them just more than scrap price for it.  Possible.