If you have a square headlight van this is a no brainer upgrade.  My adjusters had long since crumbled I was driving along lighting the tops of trees.  This conversion was very straight forward, and affordable.  Long story short:
Round Grill.  $90
Go Westy Round Headlight Buckets $125
Headlights $80 on Amazon
Wiring adapters $9 on Amazon
I reused my grill attachment parts ( 3 of the 5 ) so no cost there. Seems secure enough.
Things you might need to know:
New round grills are junk.  There is only one manufacturer left and they are not as good as OEM but after they get a bit of dirt on them nobody will know the difference.  I had to shave a couple of sections off the lower edge to make it fit where my van protruded with an additional mount for the inner light.
I scraped around on eBay for round headlight grills and even bought one not realizing that it needed a ring too.. and it cost $50, so I think the GoWesty round headlight buckets are worth the money.  If you have new paint you might find it a bit painful installing them. The are sharp and need to be persuaded in there.
These headlights are made for Jeeps and there are a zillion of them out there on eBay and Amazon.  I have no idea if they are all the same or if some are better.  I find that low beam is epic. High beam is just brighter low beam with no further throw, but it's still a whole lot better than stock.
No need to hack your wiring.  You just need "H4 to H13 Apapters" like these on Amazon.
There's a little more wiring to do if you want to have all the fun that these can be.  There's an additional wire (white on mine) that powers the white Halo that you can see in the picture above.  Love it. You just need to get a wire through from the fuse area that is hot when the ignition is on.  I lucked out and found a yellow wire then hanging doing nothing that served this purpose.   There's an amber wire too that you can drop down and splice into your turn signals that makes that halo turn amber when you use your turn signal.  Note the white wire has to have power for the amber lights to work.  Having done that I didn't think twice about replacing the lower amber lenses with smoked ones that (IMHO) look great!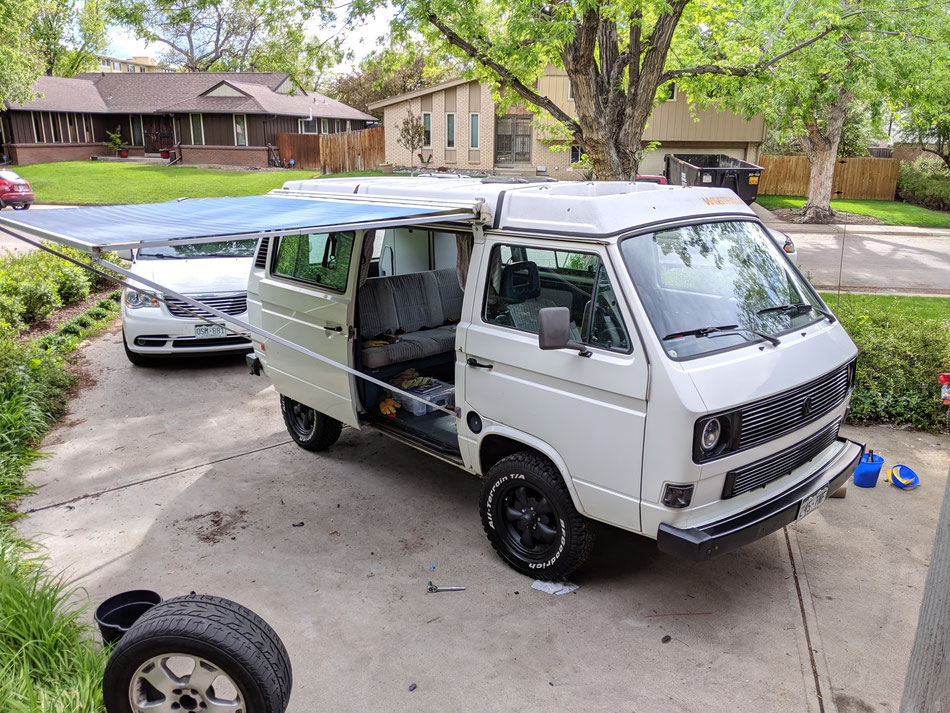 When I bought the van it came with this awning, not attached.  One mount was missing and I'd never gotten around to playing with it, but 2019 is the year of action, so it's done!  I was able to bend metal to clone the mount that I did have, and threw it on there.  It's made by Carefree of Colorado, and is the "Sidewinder" model and I was able to buy a replacement lower mount on Amazon.  I've since sprayed the outside black with Plastidip and I think the look is pretty awesome.  Very practical, easy to erect, and survived a pretty serious hail storm so thumbs up.