Ah.  Now I get it.. but if you don't go to copart.com during an actual auction it is REALLY hard to understand the process.
Here's how it works.  Cars either have an Auction date,  or "Future" as their auction date.  
You can bid on a car at any time up to the Auction date,  specifying a start and max bid, but nothing happens until the auction.   Here's the kicker.. auction happens in a sequence, not in parallel.  Say there are 1000 cars to be auctioned on a given day,  they happen one at a time, and if you blink you'll miss it. You have to wait for the car you want to come up.. then you have as little as 10 seconds to bid.  More details on that below.
There are no "Sold" listings so you can't easily see how much a car sold for after the fact, so the only way to get a sense of pricing is to watch live auctions.  Having said that, there is a huge CSV download of past auctions but when I sorted through it,  I found most of the Subarus around 2000 or so had a $0 assigned to them.   That might mean they didn't sell at all, or it could mean this data is bogus.
Specifically on Subarus of the age I'm looking for as donors,  it's clear that you can pick up the average 2000-2004  2.5 Subaru for $200 - $250 with miles as low as 150k.  I just saw a 230k car go for the $200  minimum bid.    Lowest mileage I've seen (45k) went for $900.  
But that's before fees.
Broker vs Member and inspecting cars.
Not all cars can be bought by the general public, but anything with a salvage title and more is good to go.  If you use the filter "No License Required" in the search anything that comes up is fair game.
Signup as a MEMBER is free and allows you access to come and inspect cars and bid up to $1000. Where I am at least, you can tell ahead of time if a car is readily available for viewing by the Lane/Item/Grid/Row field in the listing.  In Denver anyway, if this lists something like:
Lane/Item/Grid/Row: -/-/V07
that means the car is stored up in the air in one of the racks where customers can't go.  If it's something like:
Lane/Item/Grid/Row: B/2598/SC004
that means it's in the "Sales" (SC) area which you have full access to.  It's just a matter of working out where exactly that is in a sea of cars.  If you show up to inspect cars that are still in the racks, from what I witnessed one of two things might happen:
There's still space available and a fork lift goes and grabs the car off the rack and deposits it in the customer accessible area.  Quite a site to see.  Only took 5 minutes on the car I was interested in.
There may be no more room left and you might not be able to view the car.  That was what was going on when I first turned up but then they changed their mind.  
My gut is that by Friday afternoon, which is when I went,  the sales area was stuffed full with cars people wanted to inspect for the Monday auction.  Next time around I'm planning to show up on a Wednesday when sales of the previous weeks auction makes it unlikely that this bottleneck will stop me from looking at cars.
Members can instantly bid up to $1000 on "No License Required" cars.  To bid higher requires a 10% deposit, so if you want to bid up to $1,500 you must pay a $150 deposit online.  Doesn't seem to be any more complicated than that.  Deposits can't go towards car payment, but can be refunded.  Food for thought.  If I discover that cars I want often go for $1000 exactly,  a deposit of $105 would allow me to outbid default member level and more likely to get the car I want for $1050.  
If you see a car you simply must have that isn't "No License Required" you need to buy it through a broker.  Note,  Because it's the broker who is bidding, you can't actually participate in the auction in real time.  You have basically give them a max bid and hope for the best.  See Other Fees below.
Other fees
Well of COURSE there are other fees.   For a start there's a $59 "Gate" fee, a charge for moving the car you buy to an area where it can be hauled away by a tow truck. On top of that there is a commission fee on any purchase based on the sale price.   For us we're probably looking at $120 to $200 based on numbers, but there is a detailed list available (inside the Copart Member portal). 
So.. the REAL cost of a "cheap" Subaru from Copart?
It's starting to add up.  Here are two examples:
NO LICENSE REQUIRED auction (No need for dealer):
$350 Auction Win eg
$130 Copart Commission Fee
$59 Copart Gate fee
$100 Tow (Renting Uhaul truck + trailer)
===============
$639
LICENSE REQUIRED auction (Dealer required)
APPROX. This info is hard to get.  This is on Autobidmaster Broker info.
$350 Auction Win eg
$100 Copart Commission Fee (dealers discount)
$299 Autobidmaster fee
$85   Autobidmaster "Administration" fee
$59 Gate fee
$50 Autobidmasters Copart Broker Fee
$100 Tow truck
=========================
$1050 !!!!
OK. this is looking a lot less interesting all of a sudden compared to private sale. 
Bottom line buying a "cheap" car from Copart where fees are fixed makes it pretty painful. 
.. and on tow trucks..
To get an estimate I talked to the nearest tow truck company to my local Copart to get a better estimate.
Their charges are $85 + $3 / towed mile + $1 / min time the driver has to wait for Copart to bring the car out.
For me, as they have to go 25 miles there would also be a fuel surcharge of up to $20 for them to return to base.  The wild card here is the $1 / minute for wait time.  The rep I talked to said it's usually about 30 minutes, but she's seen it up to two hours!
With that in mind, definitely worth renting a U-haul truck and trailer and doing it myself.
Here's an auction from start to finish
Here's the story of a 2001 Subaru Legacy that someone managed to pick up as is for $225.  I saw this car in person and diagnosed it with a rod knock so absolutely no interest, but it's the first one that came up today so here's how it went.
Auction is in progress.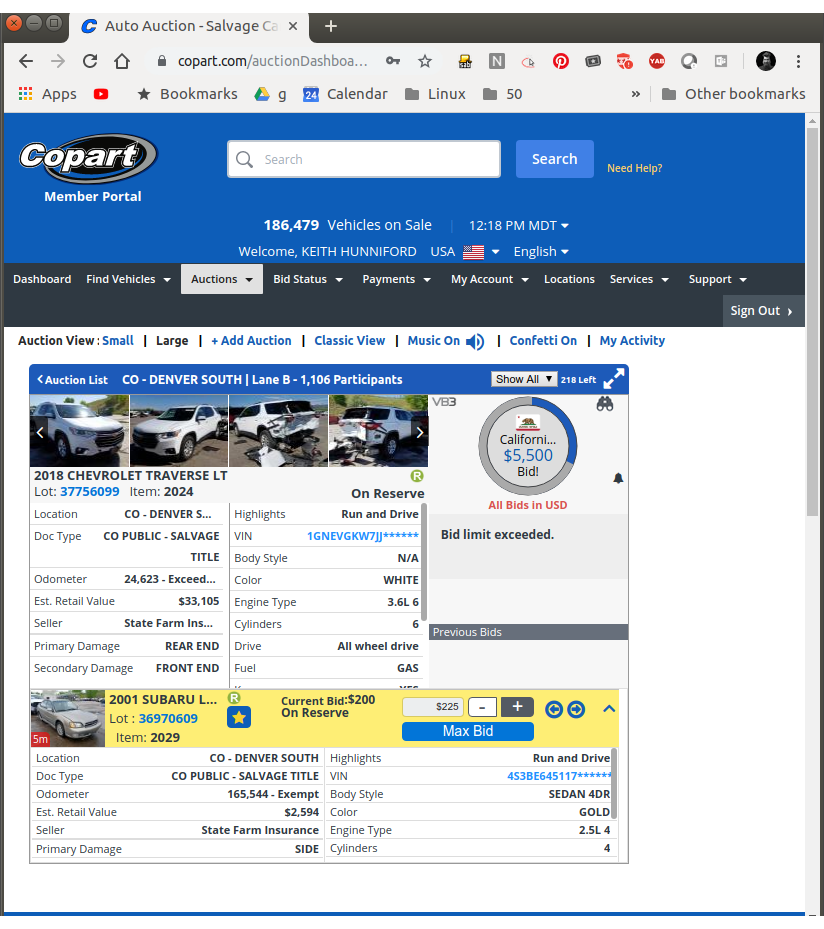 The current car being auctioned is the Chevrolet Traverse.  I jumped into the auction from BID button on the 2001 Subaru, which you can see here.  The important info:
It's going to be up in about 5 minutes (although other cars I'm waiting for are 3 hours away)
It turned YELLOW as soon as someone bid the $200 starting bid.  
If I want to bid, I have to bid $225, but I can also add a Max bid that auto-increments. Not sure if that happens in the live option, or in the pre-auction.
Up Next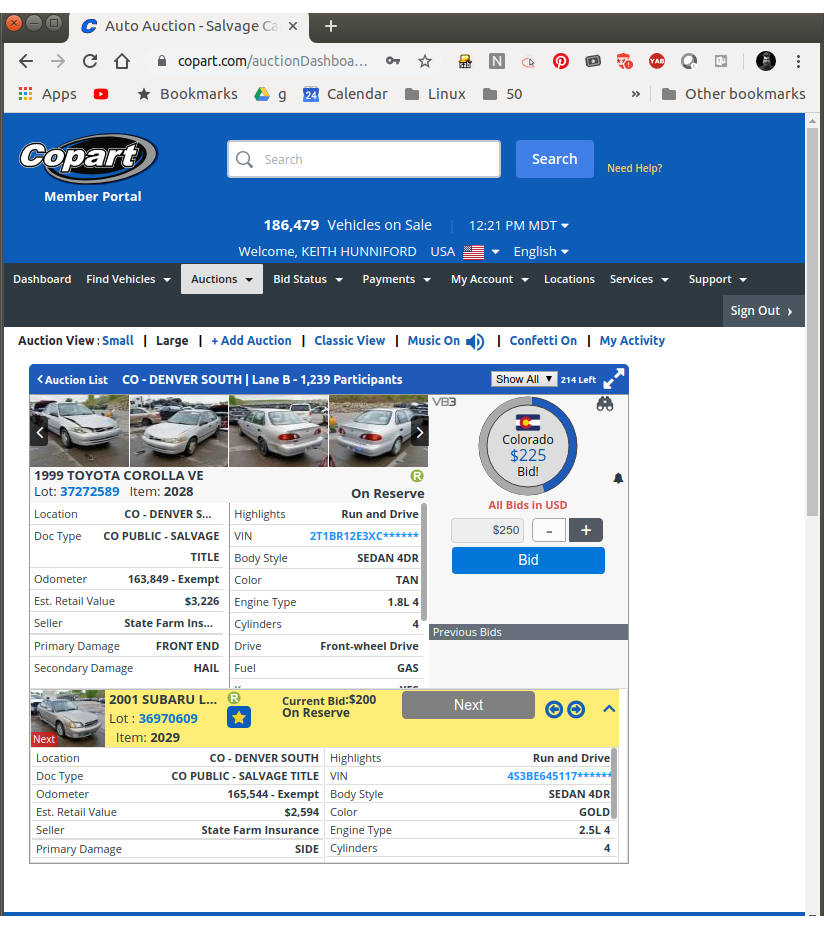 The 2001 Subaru red number area now says "Next".  The BID option disappeared a couple of minutes before the car went live.
Under Auction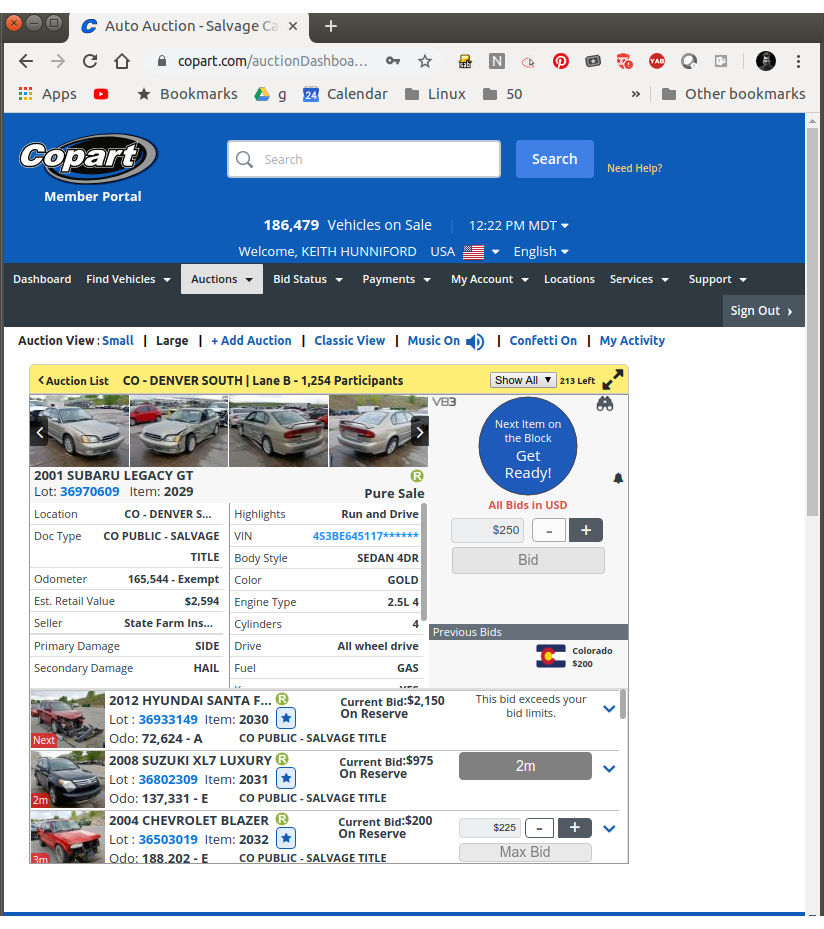 The car is up.  As far as I can tell just before this went up,  a second bid came in for $225, so now $250+ is required.  This went REALLY quickly. There were no more bids, and the car sold for $225 within about 15 seconds.  
What you do when you win
When at copart I verified that the winner can pay online and organize a tow truck without showing up myself.  They do have a shipping service, but it does not deliver to residential. 
---
Some random Observations
Doing some digging around, saw this auction in Portland for a "Donated" car.  Shows that non-accident damage cars also come up here.  at $1000 this is still potentially a good candidate, but getting up into Craigslist realm in terms of cost.  Wouldn't bid sight unseen on a car in this category,  but not out of the question.  Also note it went for $1000 exactly which is the cap for basic members.  Implies that getting a higher bidder clearance might be a good idea, because much of the competition, people looking for a dirt cheap ride, run out of bidding room at $1000.  I wonder how many savvy shoppers pick up bargains for $1025?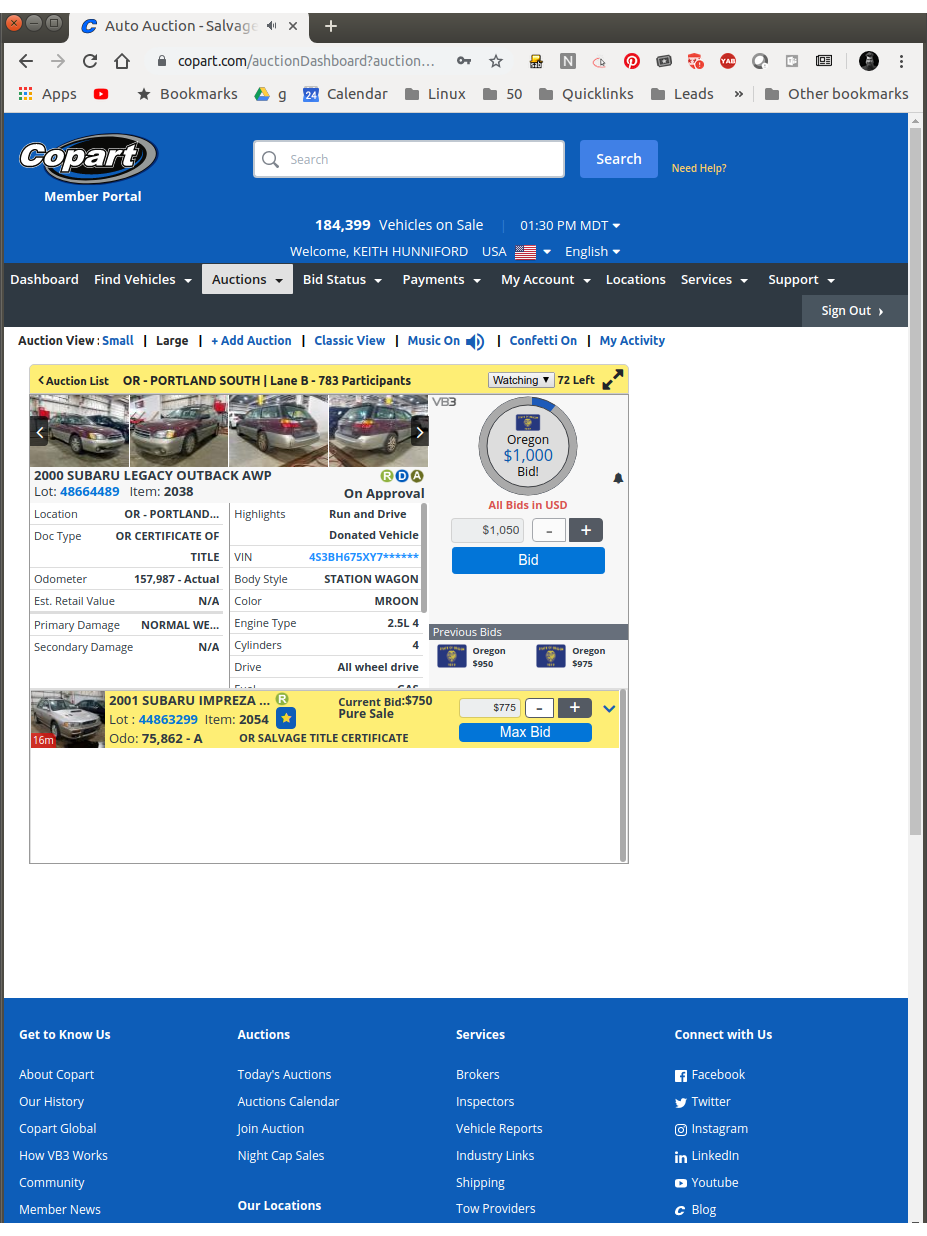 ---
Here's a broker only 2002 that looks super clean.  Accident damage marked as "Hail" which is meaningless because I see that attributed to many cars that have been dropped off a cliff.  This STARTED at  $850, and eventually sold for $875 with one additional bid in real time.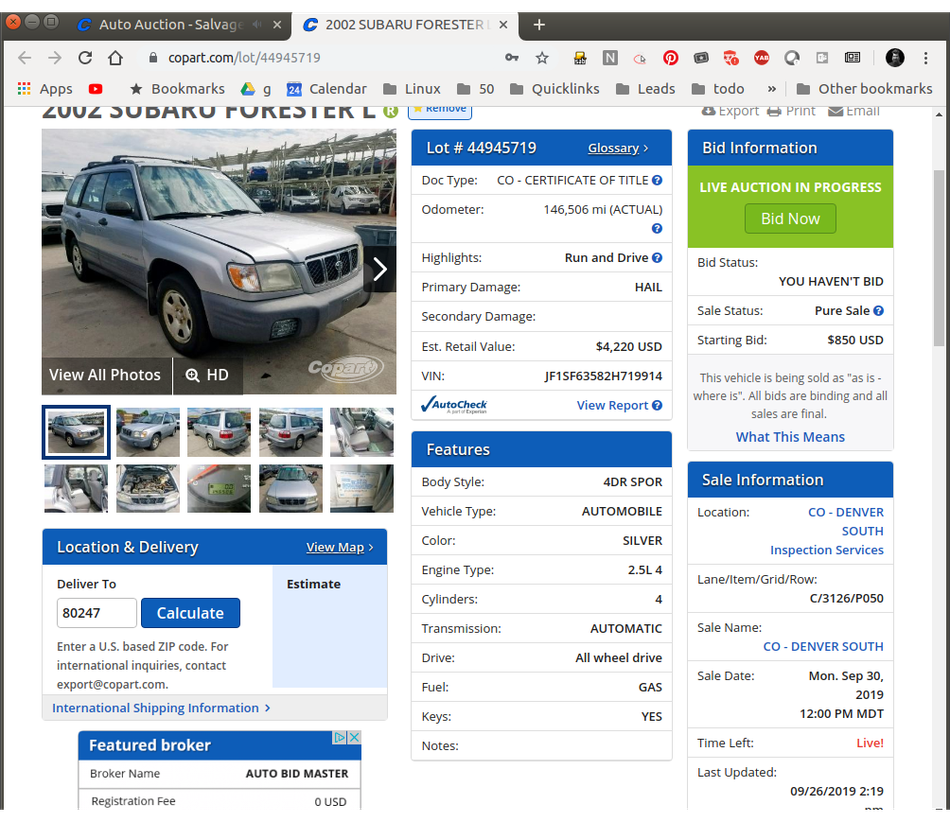 ---