As much as I liked the look of the EMPI wheels on the lowered vanagon,  the ride was not great.  Just too harsh with the stiff sidewalls of the BFGs, and that feeling that there is so much energy being compressed and decompressed in the stiff springs leading to an overall experience that wasn't relaxing.  Don't get me wrong, it cornered like a beast, but just too many compromises.
Let's look at how we got here:
Saw a picture of the EMPI wheels on a vanagon. Had to have them.
Loved the idea of BFGs with the white lettering
After installing they looked too skinny. They ARE too skinny.
Dropped the van using Weitech springs to tuck the wheels into the arches. More visually pleasing.
Too low! Catching the lip. Milled a custom spacer for the front, and added aggressive bump stops.
Ugh.  Lots of work and money, and if there's one thing I hate, it's working with suspension springs!
I'd been looking at options for a while, trying really hard to avoid the "normal" VW or Mercedes wheels. 
Some possibilities included:
getting the EMPIs widened to 7" for $800
Getting Outlaw 2s with a 50mm offset and adding Chevy to VW adapters
Hard to put $800 into the EMPIs when going with another set of wheels could be less than that AND leave me the EMPIs to sell and claw back some cash.  Bottom line though,  I know I need to go back to stock ride height and I know I need  a 7" wide wheel to make me happy in the looks department.
In the end,  it all came together when a friend Ryan found a set of 16" Sparko rims that nobody else has been fitting.  It made me think outside the box, and do a simple search on TireRack.com for wheels for a 1999 Mercedes E320.. and wow. Options!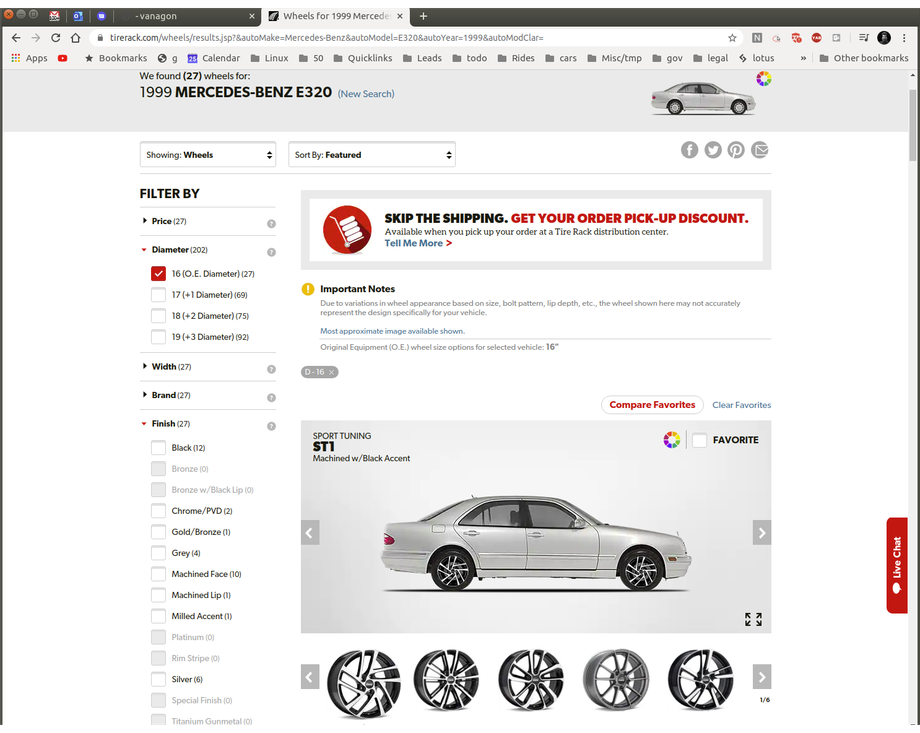 Wait.. WHAT?  202 options, including 27 16" rims. Wow.  For me, one clear winner!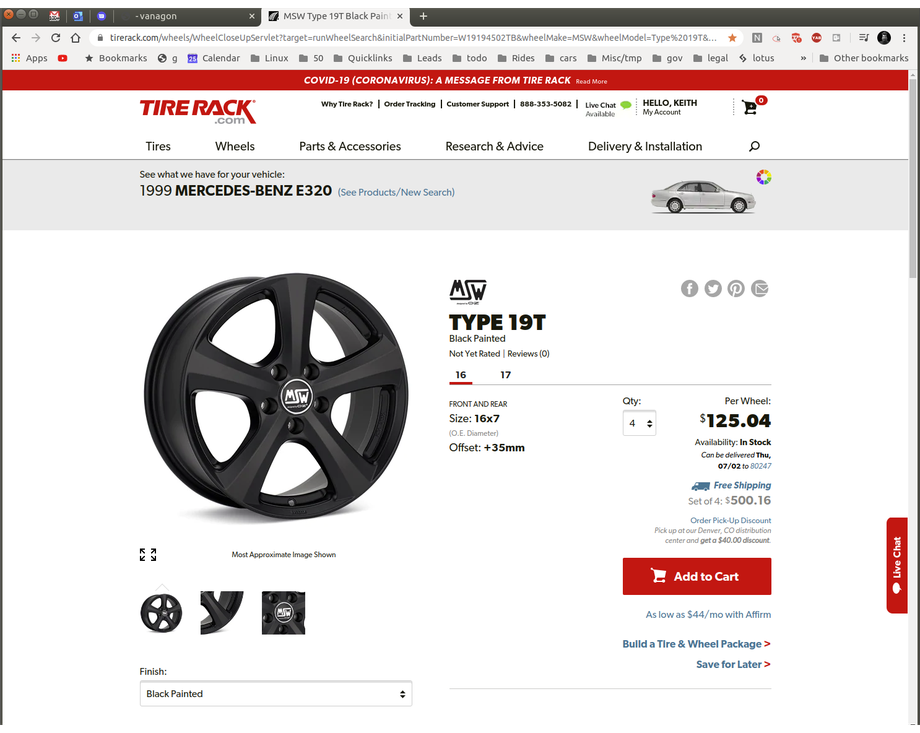 ---
16x7 ET35 with an adequate center bore.  Looking at photos of it  in the wild, most of the time those sharper edges don't jump out at you and it has a very classic look to it.   
Funny side story..  Last year, I responded to an ad on Craiglist:
"Vanagon Tires.  215/75 R15 BFGs"
What luck!  They turned out to be K02s and I picked them up for $230, even though one of them had some uneven wear.  Came home and dropped one over my rim and it went right through.  They were 215/70 16s.  Yes, I should have checked, but contacted the seller who replied, "Well they fit my Vanagon, so they should fit yours".
Ugh.  Well, maybe not so much, means I have a set of 16 BGFs K2s sitting here doing nothing.
I ordered a single rim for a test fit. Not going all the way down the rabbit hole again without testing!  It checked all the boxes.  Looked good, fit up front without fouling the radius arm, fit at the back without fouling anything inside, or the sliding door. 
How about look?  Here's a side shot comparing the EMPIs at the back with the new rims.  I like.  Diameter is practically the same, but the new rims just look beefier.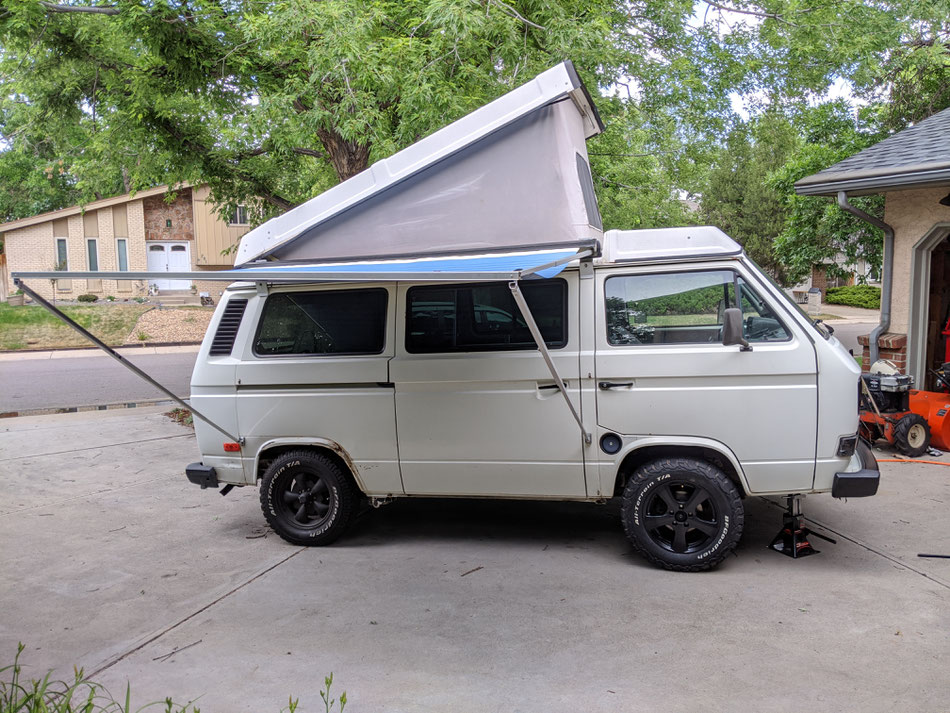 But what about the ultimate test.  How does it look at stock height?  Threw a jack under the front and a took it to 17" axle center to fender lip.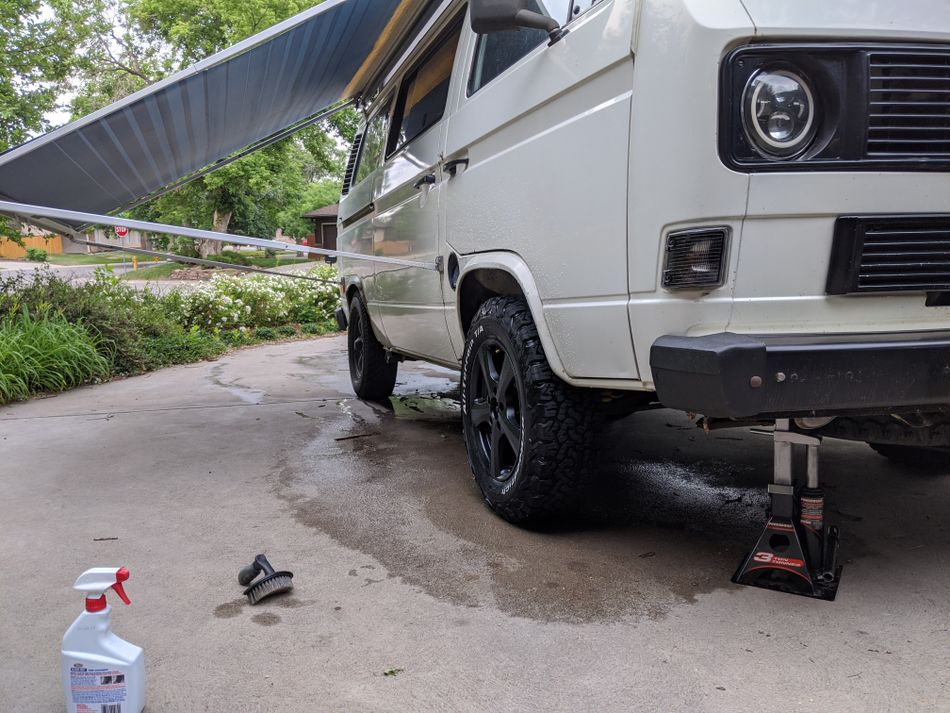 YES!  I'm happy with this.  Ordered another 3 rims which I was able to pickup at TireRack warehouse 20 minutes away a few hours later, and threw all the tires on.  The one tire with extra wear is on the rear driver side with the wear on the inside edge.  I'm ok with that.. but I'm kinda itching to buy a couple of 235/70s for the back!
---
New Stance Version 2.1 :: Still lowered.
The 215/70 16s are just about the same diameter as the 215/75 15s so no harm running them like this for a few days.  They actually run a bit smoother,  possibly more flex in the KO2 vs the 15s which were the original KO.  Possibly the narrow wheel just makes for less flex, but still.  I'm going up.  Doesn't mean I didn't take some photos still.
So here's a very unusual 16s with BFGs on Weitech lowering springs combo.
---
Stock Springs in Again
Three things I hate. Racists, idiots, and spring compressors. I hate to think what it's like working with lift springs, but even the stock springs scare the willies out of me in a spring compressor. Seems like I could disassemble a bit more and get it in there without, and I will next time because I'm done with that experience up front.  The Weitechs can be massaged in and out with ease, but not the stock springs up front.
Driving with stock springs is a familiar feeling and brings back the many years of tootling around in the van.  I like it.  Cornering of course suffers, but nose dive on braking is somewhat damped by 1 out of 4 turns on the Konis.  Bumps are no longer jarring, and I don't feel like I'm on a roller coaster when I hit an undulation on the road.
I think it looks great.  Definitely more beefy than the previous wheels, and just right.
Phew!