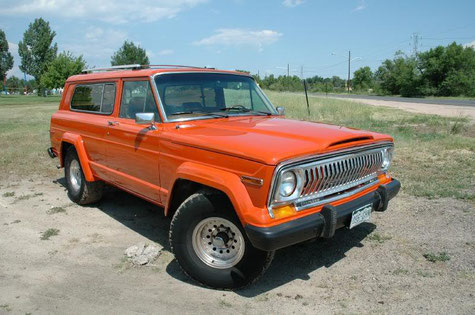 A long time ago I bought a tan colored rusty piece of junk Jeep Cherokee Wide Track for $300 and drove it home on about 6 of it's 8 cylinders.  
It was a labor of love for years, and ended up looking like this! 
At the time, Colorado Pick-and-pull yards were full of the Full Sized Woody Wagoneers sharing many of the parts, and that vehicle was seeing a resurgence in popularity.  
I discovered that interior lights,  window motors, door handles, you name it, sold on eBay for top dollar. 
For almost a year as I grew a new business most of my income came from a Saturday morning visit to the yard, and Sunday cleaning and posting on eBay.
---
Subaru Parts
So why not.  Nobody wants to pay for a Subaru without an engine and wiring harness.. but  places will come and haul off a rolling chassis for free if it's just scrap,  even if many of the parts have been picked clean.
It makes a low mileage clean Subaru with a great interior even more attractive, and potentially worth a bit more money up front.  For me,  if a part is small enough to fit in a USPS priority box, and can net $20 after shipping, it's worth pulling and boxing.
Here's a good way to get a sense of what sells and what doesn't.  It's a list of used Subaru parts that have sold on eBay, highest price first.  Doesn't take much digging to find what parts actually sell.  Personally, my eBay strategy is to post items to Buy Now auctions that make them an obvious choice against the other similar items,  so maybe 80% of what things sell for max and slightly lower than the competition.  Free shipping if it makes sense to absorb that into the price.   I price to get things off the shelf quickly, rather than holding out for the most money.
Click here for that search on eBay with that filters:  
excluding the terms "light" and "lamp" because there are too many aftermarket parts
most expensive first
using 2004 because why not
only sold items so it's not a wild goose chase.
Doesn't take too much imagination to see a super clean interior being an easy $500 and I got to over $1200 in my estimate for a recent car I considered with a perfect interior.  The only thing here is the seats at $150 I'd try and sell locally.  Too hard to ship, but if they didn't sell I'm confident that the headrests would get at least 50.  
Tail lights (pair) 60 Internal door handles 60 Visors 30 Seats 150 Dash Cluster 60 Cargo cover 50 Roof rack bars 50 Spare 40 Steering wheel 80 Blower assembly 30 Shifter knob 10 Jack ? toolkit ? starter ? wiper reservoir ? rear view mirror passenger side 50 turn siganl switch 100 trunk moulding 50 window switches 50 heater control bezel 40 console arm rest 40 floor mats 50 air intake 50 rear wiper motor 50 glove box 40 center console lid 30 hazard button 20 temp control bezel 30 emblems 20 window regulator 25 speakers 30
Vanagon Parts
I paid $125 for a mostly stripped 2.1 WBX engine for the headers and heads.  I see fully running motors being offered for $500, so I don't see any reason why my engine with videos of it running before being pulled couldn't sell for $300.  Unlike with the Subaru, I'd rather sell that to someone who needs it and help keep another Vanagon on the road, then break it down to it's parts which for eBay even though that would potentially make more money.